This article explains how the Sensor is powered as well as the kit provided to power it.
The Sensor is powered via PoE (Power over Ethernet). This means the power cable is a standard ethernet network cable (CAT5e or above)
See the below diagram for where you connect the power to the sensor.

Provided with the sensor you will receive the following:
1 x PoE Power plug (covering US, UK and EU regions)
1 x 5m Ethernet cable
The PoE power plug connects to a mains power socket. The ethernet cable provided can then be used to connect the PoE plug to the Sensor. See following diagrams showing the connections: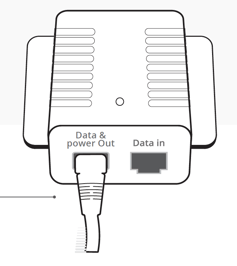 PoE Power plug - Connect one end of ethernet cable to the port that says "Data & Power Out"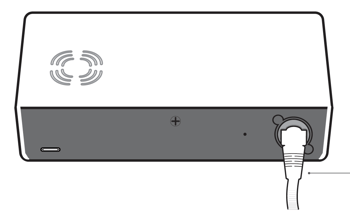 Connect other end of ethernet cable to the Sensor Power port
Using PoE as the power source for the sensor allows for any network cable (CAT5E or above) to be used between the PoE power plug and sensor. You can even use a network cable (CAT6 or above) with a maximum length of 90 metres.